We are Aditya Vision Limited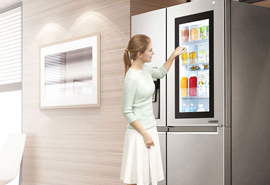 Aditya Vision Limited is a dynamic, fastest growing and service oriented electronic Retail Chain in Bihar. We are a group of multi-brand stores dealing in consumer durables of all kinds, with presence in almost every district of Bihar, Aditya Vision has become a household name amongst the people of the state. It is the first & only consumer electronic retail company to be listed on Bombay stock exchange (BSE).What began in 1999 with just one store has not just grown in numbers but now also become synonymous with value and trust within the people of Bihar. Since its inception and after almost two decades Aditya Vision has catered our more than 1 crore happy customers and the number is growing by each passing day.
Welcome to Aditya Vision Limited
With top Global brands in our Bouquet we have more than 10,000 Products ranging from Digital Gadgets like Mobile Phones, Laptops, Tablets to Entertainment Solutions like Televisions, Sound Bars, Home Theaters, Cameras, Accessories to Home Appliances like Air Conditioners, Refrigerators, Washing Machines to Cooking and Kitchen Appliances like Air Fryers, Soup Makers, Cooktops, Dishwashers.
With a focus on customer satisfaction, the brand emphasizes also on the after sales experience of the customer. The proof of which is our happy customers base across Bihar. With 39 stores up andrunning and a few more lined up in the next couple of months, you will never be far from us.